We design the new mobility
Meeting people's needs is at the heart of Aria Wheels' activities. The belief that products with high-quality standards can make a difference in terms of quality of life, is the guideline for every Aria product.
Mission
Marco Paolucci and Stefano Esposito, both industrial designers, decided to put their different skills, experiences and passions at the service of a common goal: to create mobility products with high design and construction standards.
"We started to develop our project starting from an assumption: Movement is a right and everyone should be able to enjoy it in the same way. Mobility products, regardless of who the end user is, deserve the same attention in design, as well as in aesthetic and technological research."
Starting from these foundations, Aria Wheels was born in 2014.
Who we are
Our team is made up of qualified people
Marco Paolucci
CEO and Co-Founder
Industrial Designer, dreamer and mobility products enthusiast. Marco has gained several experiences abroad both professional and personal. For Aria, he is sales manager and administrator.
Stefano Esposito
Chief Designer And Co-Founder
Industrial/Interior Designer, in 2013 he was selected for the "Salone Satellite in Milan". He has collaborated with important architecture studios and design companies. He leads the Research and Development department and carefully coordinates Aria's production.
Manuel Pattarini
Production Manager
Keen on sailing and mobility. His background in technical education allows him to identify immediately the production issues. Manuel controls the entire production process.
Alessia Pozzo
Administration
Travel lover and passionate about the world of motors. Graduated in International Relations for Marketing, Alessia currently manages the Administration office.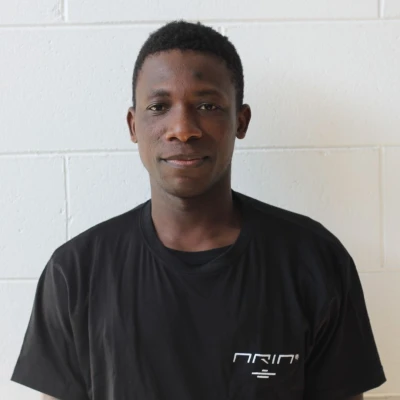 Billy Doumbia
Assembly Line
Billy's expertise is in assembly lines, his background is in the automotive sector. He is extremely precise and focuses on details.
Ali Muhamud
Assembly Line
In his past experiences, Ali has achieved different job experiences, from mechanical worker to bodyguard. This has allowed him to develop a strong spirit of initiative and problem solving.
Fabrizio Tonellotto
Sales & Marketing
Communication and Marketing expert, specialised in social media marketing. For Aria, he defines and manages the online and offline marketing activities.
Graduated in Marketing & Communication, she has a creative and colorful mind. Movie lover and photography enthusiast. For Aria, she is in charge of web communication and social content creation.
With a background in logistics and quality control, Giorgio is the manager of the Aria warehouse. He is an open minded and a cheerful person. He loves coffee but has not yet found the perfect moka.
We're always looking for new talents to join our team!
Apply