Introduction to CarboLife
CarboLife is a manufacturer of wheelchair handrims founded in 2013 by a group of engineers and designers who wanted to make life easier for people with disabilities. The company's mission is to improve the quality of life through innovative products.
Strong similarities unite Aria and Carbo Life, both were born from a personal need that could not find any solution in the mobility aid market.
The idea of producing wheelchair handrims
The initial impulse to work for the mobility of wheelchair users arose from conversations with a wheelchair-riding friend of the founders. These occasions opened their eyes to the potential of developing handrims to improve the mobility of wheelchair users. In this context, the first handrim, the CURVE, was developed. It owes its perfect ergonomic fit to the imprints by using modelling clay and which ideally represents the natural anatomy of the hand.
People and their individual needs are at the heart of all the work behind Carbo Life and are the driving force behind the continuous innovation efforts. Many years of development engineering experience in the aerospace, automotive and shipbuilding sectors have ensured a solid basis for creating the lightest handrims on the market that are internationally patented, functional and aesthetically pleasing.
CarboLife handrims models
With the aim of offering every wheelchair user the handrims tailored to their individual needs, we have developed a range of innovative handrims in close cooperation with wheelchair users, physiotherapists and specialist retailers. Each handrim has been tested by experienced users with different pathologies to ensure the best feedback for maximum product improvement.
The handrims meet all user requirements, such as full or limited hand functionality.
All CarboLife's handrims are available now in the Aria wheelchair configurators.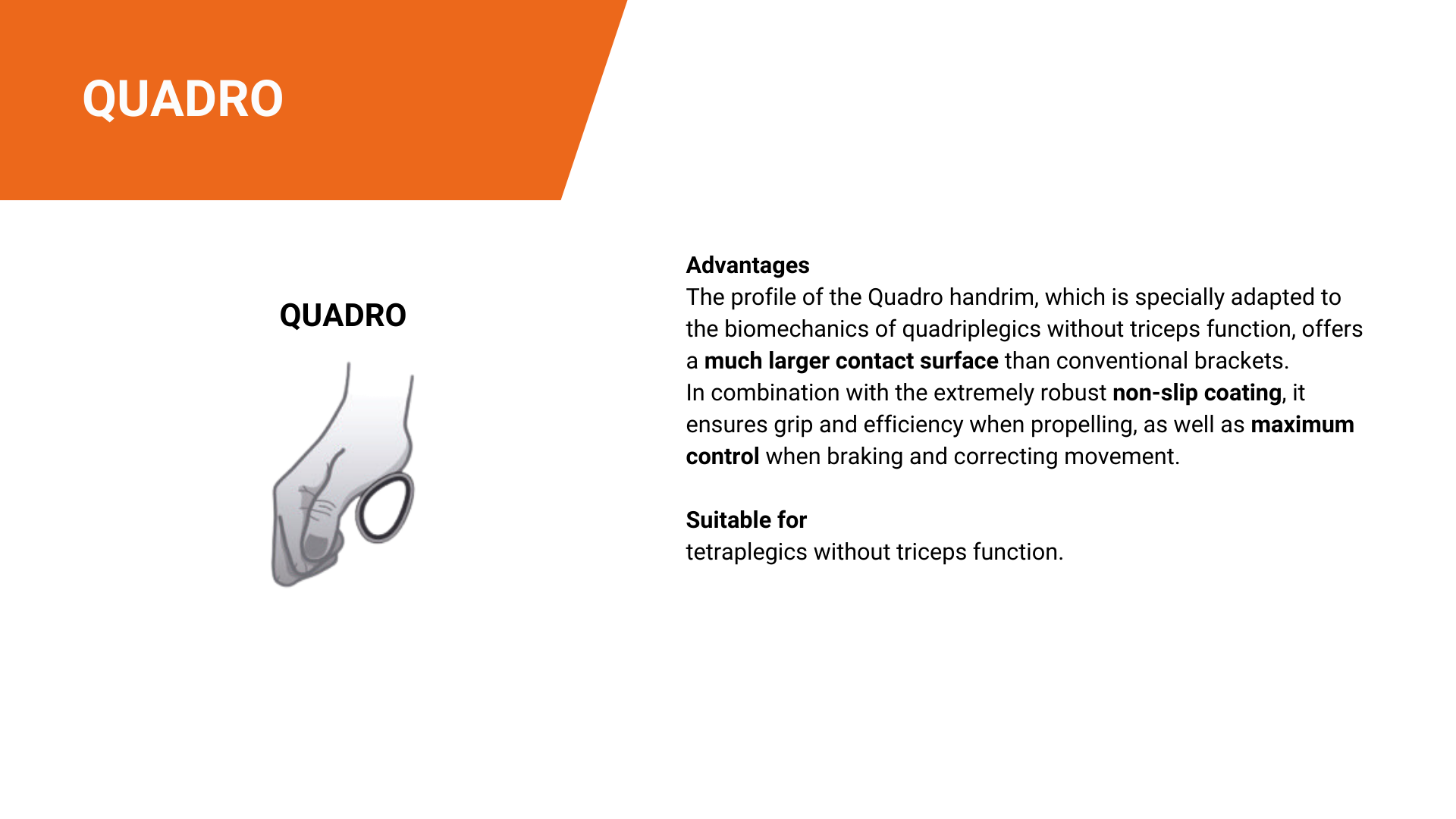 Benefits of CarboLife handrims
CarboLife handrims are ergonomically designed, which means they make it easier to push and reduce the force used to move. The texture of the material gives you more control over the wheelchair, which reduces the chances of slipping or causing pain in the hands and arms.
CarboLife stands for high-quality products 'Made in Germany'. The products are developed in Dresden and handmade to the highest environmental and quality standards.
Like us at Aria, Carbo Life follows the individual needs of the user as the central focus of its activities, the driving force of which is continuous innovation efforts.
Try now to configure your Aria wheelchair together with the CarboLife handrims that best meet your needs. Many advantages await you!
Contact us
We will get back to you as soon as possible.