The new ONE
Iconic design
Overview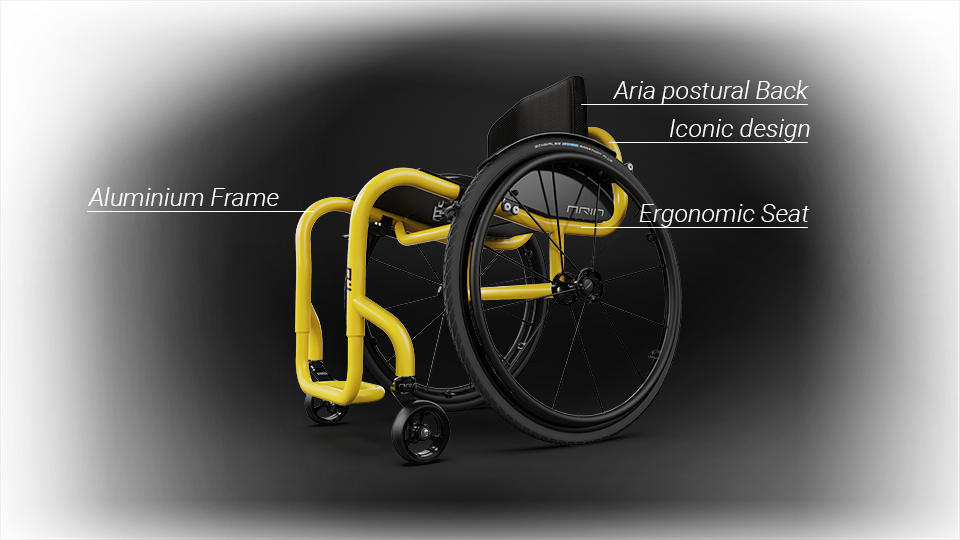 Innovation, an Aria guarantee.
Every Aria product is constantly evolving to achieve perfect performance and offer our users the best possible product.
Aria 1.0 is unique!
The new Aria 1.0 is a lightweight wheelchair with a custom-welded aluminium fixed frame. In the standard configuration, Aria 1.0 is provided with the Aria postural backrest to ensure the best comfort.
The wheelchair frame is characterized by a front tapered design that better contains the legs; at the rear, the new ergonomic seat design optimizes pelvic stability and facilitates pushing.
Thanks to the improvements made, the frame only weighs around 2 kg. The welding of the frame takes place in a protected atmosphere (TIG welding) that guarantees the resistance of the joint over time.
The new ONE
The new 1.0 is a super-light and highly customizable wheelchair that can be customized to suit different needs.
It is possible to select:
Different Aria postural backs, either fixed or removable. The carbon fiber postural backrest is mounted with a central attachment to emphasize the elasticity characteristics of the material;

Tensionable or rigid carbon-fiber seat, both ensure maintenance of the required dimensional aspects over time

Ergonomic Seat

Footrest welded to measure or height adjustable

A wide choice of customizable elements
Furthermore, additional accessories can make the product even more unique and customizable.
The new Aria 1.0 is Made in Italy and assembled with innovative techniques.
Why choose the new super lightweight wheelchair 1.0
The Aria 1.0 is a super lightweight wheelchair for autonomous and expert users who want to move independently throughout the day.  
The most appreciated features are:
Rigidity

Ergonomic seating

Aria's postural back (as a standard feature)

Smoothness

Super responsiveness
Classified as a super-light wheelchair, it weighs only 4,9 kg approx.
Download area
Rotate or zoom the 3D preview
The product displayed is for demonstration purposes only and does not reflect the configuration
Technical specifications
Lightweight total welded wheelchair with a rigid frame made of aluminium alloy with Aria postural back as standard feature.
Maximum load capacity 120 kg. Transport weight ± 4,9 kg.
The standard configuration is pre-selected in the configurator below (measurements in millimeters).
Parameters marked "Not adjustable after sale" are fixed; parameters without notes indicate adjustable measurements.
Frame
Frame sizes
Sizes
Options
Postural Backrest
Aria® Accessories
Seat cushion
FAT Wheels
Attachments
Backpack
Anti tipper
Scratch protection
Board for transfers
After submitting the form, you will receive an email as soon as possible with a summary of your configuration.
Configuration Overview
Configuration Overview
Product

1.0

Customer order ID

:

Configuration width

Note

:

{{ item.newKey }}

:
Configuration width: {{ configurationWidth }}mm